FROM THE SAMARA STRIKE COMMITTEE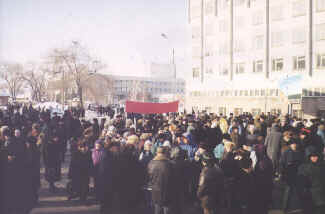 A Resolution of the Workers' Meeting of ZIM Plant (Samara)

We, the workers of ZIM, declare that our bosses and authorities deceived us so many times and with such impudence that we no longer believe anybody and anything. We therefore declare to all that from now on we won't let anybody to touch our ZIM before we don't get paid our back wages. No to bankruptcies, no to joint-stock companies, and no to outside managers! That's all! Now we are the masters of the plant!
First, pay us our back wages--then we can talk. Hands off ZIM!
________________________

To the Workers of the Ball-Bearing Plant #4:

Good for you!

We, the workers of ZIM, support your strike with all our heart.= As a token of our solidarity with you, we will blockade the Novo-Sadovaya Street (the central thoroughfare of the city--VB.).= Follow us!= Together we'll overcome!= (the Strike Committee of ZIM)